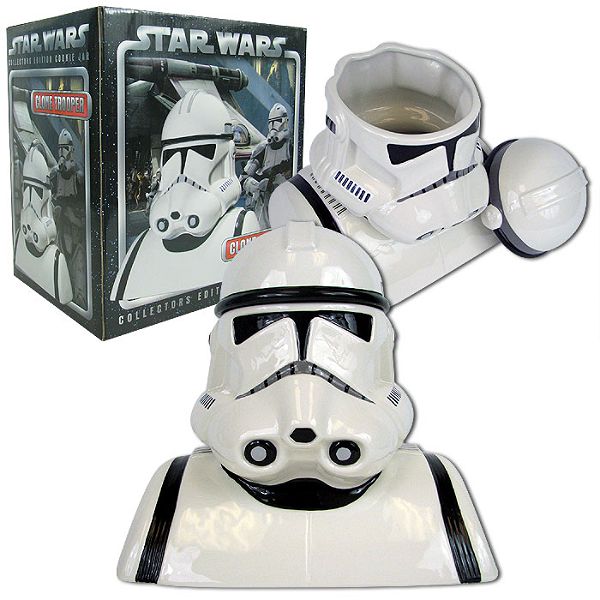 Amazing Deal on CloneTrooper Cookie Jars: $22.49?!
I came across another steal of a deal thanks to the big red K! Check out these sweet CloneTrooper cookie jars which are part of the limited release Star Wars Collector's Edition. These are based on Star Wars Episode III Revenge of the Sith, these high quality cookie jars are made of tempered ceramic, hand painted, and covered in a high gloss clear coat finish. These awesome looking collectibles measure approximately 11 inches tall.
These are currently available at the site in two different versions: CloneTrooper and the Special Opps CloneTrooper version. Although not currently yet available on this site, I do have sources that indicate a Commander Gree and Shock Trooper version will also be made available soon on the site.
Although these have been available at Kmart.com for about a year, I wanted to post about them because of the great deal I found. These normally retail for $40-$50 at almost every other source, but Kmart has them for an amazingly low

$22.49

!!! These are

normally priced at $24.99 on Kmart's site

but you can save another 10% off of them until October 16th, 2010 making them

a steal at just $22.49. If you purchase

$50 or more you can also enter coupon code KMART5OFF50 to save another $5.00 off your order total!
I've gone ahead and made this insanely easy for you to get this great deal. Just click on the image(s) below to be taken directly to the corresponding product. Once you click the "add to cart" button Kmart's shopping cart software will automatically give you a 10% discount. That's all there is to it! If you'll be ordering $50 or more be sure to use the coupon code mentioned above to save yourself $5.00.
If you are interested in these I'd highly recommend grabbing them now since these are priced significantly higher all over the web.